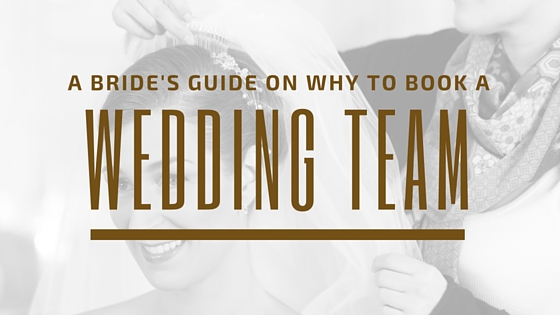 With so many details to attend to make your big day ​as amazing as possible, many brides leave hiring a beauty team (hair stylist & makeup artist) to the very ​end. Worse yet​,​ ​many brides think they can do it themselves! In ​the first part of our blog series, we discussed how to find your wedding team by asking the trusted experts you are already working with.
​This second installment addresses the Why​ of ​needing a wedding team on your big day.
Photographs and Video. On your wedding day​,​ you will be photographed more than any other day of your life. Since you will probably be ​spending a pretty penny on photographs and video that will last for​ever, you will want to look​ your absolute best!
Yes​,​ your photographer can ​P​hotoshop out a few things that are​n't quite perfect, but these things take extra time on their part, and will cost you ​additional money money for the extra work ​performed. Most photographers ​provide a certain amount of retouching in their packages, but fixing everything you don't like costs you extra​… and there are some details that simply can't be fixed–like darkening your eyebrows in every photo!​ Photographers want to get your photos and videos edited quickly so you can have your memories​ as soon as possible.​ Editing takes a ​significant amount of time​, and having them fix something that the right beauty team could have made perfect in the first place is just a waste of time for them and a waste of money for you.
Experience. Your beauty team is experienced in how to ensure your hair stays in place throughout the day and your best features are emphasized in photos. Did you ever think about how your eyebrows frame your eyes to bring them out in photos? Do you know how to keep that gorgeous veil in place when you walk down the aisle, or how to take it out (without ruining your style) when you hit the dance floor? Do you know how to cover up that pesky zit that popped up on your chin without piling on tons of concealer and drawing more attention to it? Your beauty team has seen it all, and knows how to deal with any issue that may arise on your big day without flinching.
Stress. You don't need the extra stress of ensuring you look your best, even if you are pretty ​darn​​​ good at doing your own hair and makeup. Enjoy your day! Let people pamper and take care of you.
You can fix ​all of these issues​ by hiring a beauty team. You already now how to find a great beauty team, and now you know why you need them.
​And so,​ I leave you with this sage advice​:​
Remember: Pictures last a lifetime; don't skimp (or stress!) on how you look on your big day.