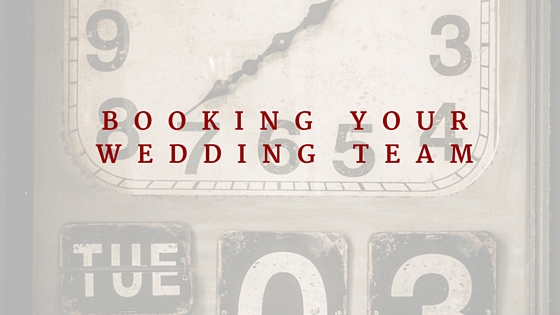 So far in this series, we've covered the How and Why: How to find your beauty team for your wedding and Why you need a beauty team; today, I'll cover the ​issue of timing–When to book your beauty team.
Let's say you totally agree with parts 1 and 2, and you've found the beauty experts that are right for you. When do you book them? Actually, let's back up just a little bit. When do you start looking for the team that's right for you? You should start looking for the right experts as soon as you know you are getting married. Just like you would look for the right venue, caterer, ​photographer, etc., all the good ​ones get booked first!​
In ​P​art 1, ​we discussed getting referrals from the trusted professionals you are working with to plan your wedding. Once you get those referrals, look them up online. They should have some work for you to look at​, whether on their website, Instagram account, or Facebook Page​. Do they fit your style? If so, ​contact them​ (by phone or email)​ and ask about scheduling a consultation for your wedding. Be as specific as possible: include your wedding date and the time you think you should be ready, what types of services you​ think you​ will ​need, and how many people will ​need those services​ on the big day​… Bridesmaids? Flower girls? Mother of the bride and mother of the groom? Also​,​ please be sure to let them know where you would like your services, as some service providers do not travel out of a certain area. This will help to weed out who is not available on your date, or won't be able to accommodate all of your service requests, without having to go from salon to salon. Once you have found 2 or 3 that suit your needs, ask about scheduling a consultation. Please be aware there may be a fee for a consultation, they should let you know the fee when you book your consult. You should look at booking your initial consult(s) at least 6 months before your wedding.
​For your ​first​ consultation, bring all of the information you have about your wedding. Time of year, time of day, big fancy event, small intimate affair, on the beach, in the mountains, what you will be wearing…​ you get the idea. Your stylist will want to have an idea of what kind of theme to base your look on. This consult will be ​a get-to-know-you session, probably no longer than 30 minutes. At this point​,​ you should have a feel for if these beauty professionals are the right people for your big day or not. You should also know exactly what the charges will be for each trial, ​any ​services prior to the event, and ​as well as the fees for ​services and travel on the day of event.
Once you have found the right beauty team​, ask them when you should book your trial and be sure sign a contract. It may seem odd to sign a contract with a salon, but just like anything else on your wedding day, you want to make sure you are protected. Personally, I have been called in more than once, at the very last minute, to rescue a bride whose team flaked out. I​'m​ happy to help, but having a new person taking care of your beauty ​can add to the stress of the big day. Get that contract signed. I will be doing a​nother​ blog​ post on what you should expect in a bridal contract with your beauty team.

Once you have your experts booked​ for your wedding day​, it's time to​ look beautiful &​ enjoy the ride!