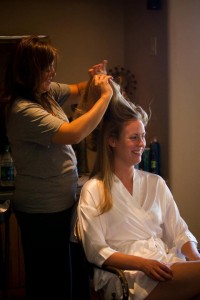 Planning your wedding? Think you have all of your Ts crossed, and Is dotted? But do you have your wedding day beauty booked yet?? No? That's okay, I'm here to help you break down how to find the right beauty team for your big day!
You will find the right beauty experts for you by simply asking. Who should you ask? There are 3 key people who are probably already a part of making your big day as special as it can be.
#1 Your Wedding Planner. They work with the best in the business on a very regular basis. When they come across those stylists and makeup artists that are not so great, they will steer you far, far away from them. Their reputation as a planner is on the line, so they will be sending you the most professional beauty makers in the biz.
#2 Your Photographer. Wedding photographers work with stylists and makeup artists during every wedding. They know who shows up ready to make the bride look the best in her photographs. Photographers and stylists/makeup artists work closely together at weddings, so your photographer will know who they like to work with, which usually means you will want to work with them too.
#3 Your Stylist. I saved this option for last for a few reasons. Maybe you are not getting married where you currently get your hair done. Maybe your stylist is an amazing colorist and hair designer, but doesn't know a French Twist from a Beehive. Or, maybe your stylist isn't available on your wedding day. If your current stylist is awesome in one aspect of hair dressing, then they will know other fantastic hairdressers that can help you look your most beautiful on your big day.
Whomever you decide to ask to give you a referral, do not wait until the last minute to ask! Stylists and makeup artists who regularly work on weddings get booked early and often. As soon as you get referrals from trusted sources, call them up and book a consult—I'm positive you will not be sorry you have that checked off your to-do list.
Remember: Pictures last a lifetime; don't skimp (or stress!) on how you look on your big day.