It's time to party once again at Enlighten Studio! Some of you may remember our fun little event we had back in September called Glossy Night Out. It was an amazing party! Guests who attended this were treated to a Gloss Sync Color Service, Professional Blow Out, Mini Makeup lesson, along with fun treats to eat, and sip. Our DJ kept the party hopping all night long.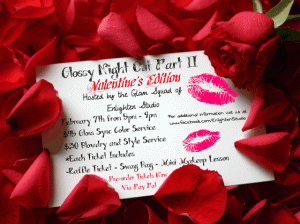 Since this was such a great event back in September, we decided to do it once again! Just in time for Valentines Day.
Get your color back in tip top shape with our amazing Gloss Sync Color Service. In 20 minutes or less, you will have color perfection and 2 times more shine. Not only will your hair-color shine, in your mini makeup lesson you will be able to learn some easy tricks to take your look to the next level. There is no better way to get ready for Valentines Day than Glossy Night Out 2!  Purchase your ticket here ~ http://enlightenstudiogno.eventbrite.com
If you attended our first Glossy Night Out, tell us about the fun time you had!
(and feel free to come again!)
See you on Feb 7th!!!