Living in the valley we all need to be conscience of what we are using on our hair. Because we are living in a crazy dry, and unfortunately polluted desert, our hair (and skin, but that's another blog;) take a beating. At Enlighten Studio we recently started implementing the Matrix Total Results line. We have found it to be a very affordable (awesome!!) as well as effective line!  
We offer a Total Treat – Deep Conditioning Mask, and guess what?? It ONLY takes 5 minutes, and your investment is ONLY $5! It revives softness, shine and elasticity (did I say that it only takes 5 MINUTES? Just checking;).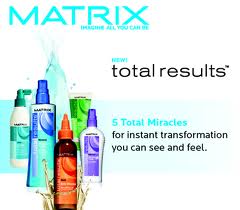 The Total Miracles, which are my personal favorite, consist of Wonder Boost, Super Defrizzer, Miracle Treat 12, Silk Wonder, and Moisture Cure. Each one delivers instant results for a transformation you can see and feel!
There are 5 amazing shampoo and conditioner sets: Moisture, Color Care, Sleek, Amplify, and Curl. 
At Enlighten Studio we want your take home care to solve all your hair care needs and challenges and we feel that the Matrix Total Results line does all that and more! The very best thing about Total Results is how it makes an instant difference and fixes YOUR specific hair care issues. Combined with Enlighten Studio's well trained Stylists you will be guaranteed that the product you take home is the one that will work for you. If for some reason it does not live up to your every expectation, no worries we have a 100% satisfaction guarantee on all of our products. Simply bring it back in to the studio, and we will exchange it for a product that is the right one for you, or give you your money back. Now tell me you can do that at Costco, Walgreens, or Walmart?? (even AFTER you have used it?) 
Stay tuned to find out more about each product and specific benefits to your hair. First up Wonder Boost…Oooh, I know you can't wait to find out more! Maybe, just maybe we will do a video…Ok you talked us into it, we'll do it!!
 By Leah Wood