Is it time to update that do?  Now is the right time to get a new style and color. A new year can bring lots of changes, and many of us have a litany of resolutions that we would like to tackle. One of the easiest ways to get a new outlook on life, and see a new stylish you, is to change that do!
We are going to take you through the steps on how to find a new look, and make that happen with your stylist. Remember from a recent blog post, your stylist is your partner 😉
Step 1 ~ Find Inspiration! There are so many places for you to find inspiration for a new style. Magazines, tv, movies, Facebook, and our favorite, Pinterest.  So our wonderful client, Whitney, brought this pic in for inspiration.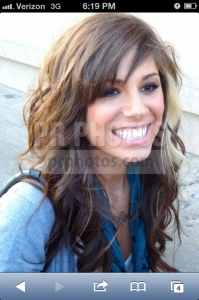 Yes it came from a pic on her phone, and that's OK!
Step 2 ~ Talk to your stylist! Yvonne asked her what she liked about this picture. Whitney loved the texture, and layers. She said she wanted something fun and stylish (Don't worry her before picture is coming up). She didn't like that weird blonde piece on the side, but loved everything else about the color. Good thing because Yvonne didn't really like that weird blonde piece either! Yvonne made sure that Whitney really wanted that side swept fringe (she asked her twice!), and Whitney was good to go!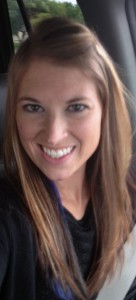 Here is Whitney's before picture –>
As you can see all of her hair is fairly long with minimal layering. She has her front side part pinned back because it would always hang in her face, and she felt that it made her look very young. Obviously she is beautiful, and we wanted to bring that beauty out further. (Notice the fun blue that pops out underneath, we left that as is!)
Step 3 ~ Trust your stylist! You brought in your inspiration, you had a nice conversation about your inspiration picture, and your stylist made sure to ask what your boundaries were. Now it's time to get to work!!
Here she is!  New Do!
OK so what did Yvonne do to get this look? Since Whitney has fairly straight hair that tends to be on the finer side, she had to take a significant amount of length off in order to create that rock star texture she was looking to achieve, plus she hadn't had a haircut in a few months so it was time to take some of those bad ends off anyway. Yvonne then went in and created texture, aka layers. This is what gives hair movement and body, and that is just what Whitney wanted. Now to the fringe, formerly known as "bangs". This nice side swept look, updates the style, and gives her a finished and stylish look. For the color Yvonne gave her dimensional blonde highlights to play up all the new texture, and slightly evened out her base color. Since Whitney does have a finer texture of hair, Yvonne advised her to leave the underneath darker in order to give some depth to her hair, and make it appear as if she has more hair.
We think this new and updated DO for Whitney is a winner!!
How will you update your "Do" this new year?